Trump Celebrates Impeachment Acquittal And Blasts Rivals
Report says, US President Donald Trump has taken a victory lap one day after his impeachment acquittal, in a tirade against his political enemies.
"I've done things wrong in my life, I will admit… but this is what the end result is," he said as he held up a newspaper headlined "Trump acquitted".
"We went through hell, unfairly. We did nothing wrong," he said at the White House. "It was evil, it was corrupt."He earlier criticised impeachment foes who invoked their religious faith.
"Now we have that gorgeous word. I never thought it would sound so good," Mr Trump said from the East Room, which was crammed with supporters and cabinet officials. "It's called 'total acquittal'."
Mr Trump was impeached by the House of Representatives in December for abuse of power and obstruction of Congress, but was acquitted on Wednesday after a two-week trial in the Republican-controlled Senate, which did not include any witnesses.
Mr Trump also used a swear word to describe the justice department inquiry into whether his 2016 election campaign had colluded with the Kremlin."It was all bullshit," he said. "This should never happen to another president ever."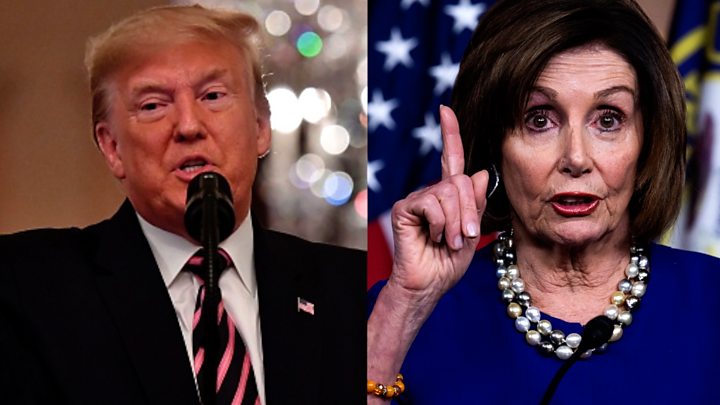 According to the president, it was neither speech nor news conference; it was "nothing", it was a "celebration".
It was certainly about 62 minutes long and veered wildly between self-congratulation, via self-justification, to self-pity with a smattering of bilious expletives and insults to describe his political opponents en route.
It was both a lap of honour and an emotional rollercoaster, all played out in front of his Republican flock, the nation and the world.
Frankly, it was hard to keep up.One moment the president was railing against liars, leakers and "dirty cops"; the next we were into an anecdote about a wrestling team from Penn State University.
The acquitted, no doubt, enjoy a moment of catharsis – the moment of euphoria when the pall of guilt is lifted and renewal can begin. But don't expect this president to put this one behind him – it's far too valuable an electoral stick with which to beat his rivals right up to polling day.
President Trump's appeal in 2016 was as the outsider, the man to "drain the swamp" and give power back to the people. The impeachment process will allow Trump 45 to once again assume the mantle of the heroic political outlaw.
euro news