Hurricane Harvey, Drenches Texas After Devastating Coast
At least one death was reported Saturday as Texans who rode out the most powerful hurricane to hit the United States in a decade ventured out to find "widespread devastation," with a downgraded Hurricane Harvey lumbering north in what was "now turning into a deadly inland event."
The first fatality was reported in the hard-hit coastal city of Rockport, where the person died in a house fire during the storm, Aransas County Judge Burt Mills said Saturday afternoon. "We didn't know about it until today," he said.
At least a dozen people were injured, Mills said.
With dire warnings of tornadoes, torrential downpours and days of flooding to come, broad swaths of southeast Texas were littered with uprooted trees, toppled signs, flagpoles that snapped like toothpicks and clusters of bricks peeled like scabs from walls and rooftops.
Additional fatalities were feared in coastal Rockport, where an estimated 5,000 residents had stayed put for the storm that blasted ashore as a Category 4 around 11 p.m. ET Friday between Port Aransas and Port O'Connor, Aransas County Sheriff Bill Mills said.
Callers to the local emergency dispatch line told of walls and roofs collapsing on people across the city, where an official had warned those who opted to stick out the storm to write their Social Security numbers on their arms for body identification.
Shortly after Harvey was downgraded to a tropical storm, with sustained winds of 70 mph, Saturday afternoon, Gov. Greg Abbott told reporters that the state had more than 1,000 workers involved in search and rescue operations.
"There's been widespread devastation," Rockport Mayor Charles Wax told CNN late Saturday morning. He said emergency workers were going house to house to check on residents and assess damage.
"We've already taken a severe blow from the storm, but we're anticipating another one when the flooding comes," he said.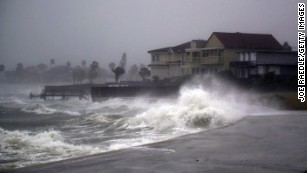 Harvey wielded the "highest potential to kill the most amount of people and cause the most amount of damage," Brock Long, director of the Federal Emergency Management Agency, had warned. He echoed forecasters who predicted Harvey would leave areas "uninhabitable for weeks or months," echoing language last seen ahead of Hurricane Katrina in 2005.