Eradication Of Polio: FG Restates Commitments
10 December 2019 Health National News News
---
The Minister of State, Health, Dr. Olorunnimbe Mamora has restated the commitment of the Federal Government towards ensuring the total eradication of wild poliovirus (WPV) in Nigeria.
Dr. Mamora stated this in Abuja during a visit by a team from the Africa Regional Certification Commission for the Eradication of Poliomyelitis (ARCC) of the World Health Organization (WHO) to intimate him of their mission to verify the document submitted to them by Nigeria on the eradication of WPV in the country.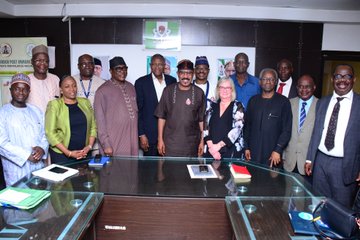 Dr. Mamora commended the ARCC team for assistance rendered to Nigeria to facilitate her exit from the row of countries with the WPV.
"The present Administration has accorded top priority to the task of polio eradication, and in the last three years, remarkable progress has been recorded in Nigeria in the reduction of the WPV, with appropriate surveillance put in place to sustain it."
The Minister of State pointed out that the Nigerian documentation to the ARCC on WPV eradication is near perfect and expressed confidence that in the course of the exercise to be embarked on by the team, it will be verified as such.
He pledged the necessary support, co-operation and logistics required from the government to the team to ensure a successful execution of the verification exercise.
Dr. Mamora extended the felicitations of the Minister of Health, Dr. Osagie Ehanire to the team, informing them that his absence at the meeting was due to exigencies of duty.
Earlier, Dr. Arlene King, first reviewer of the team, stated objectives of the visit to include: conducting field visits with regards to polio eradication activities in some health facilities in selected states in the three zones in southern Nigeria during phase one and in the three zones in northern Nigeria during phase two alongside providing recommendations and feedback for further improvement of the complete national documentation.
She explained that to support the country in the preparatory process, the Commission and its Secretariat will ensure that the national complete documentation prepared by the country meets the required standards of the ARCC.
" In its planned activities for 2019-2020, ARCC has scheduled Nigeria to prepare and present it during the meeting to take place in June 2020."
Executive Director, National Primary Health Care, Dr. Faisal Shuaib said that the ARCC team is here to identify with Nigerian states at the community level, to understand how the polio eradication program is working and to ensure that no child is paralyzed from the WPV.
He further said that at the end of the verification exercise the ARCC will be given the opportunity to preview and inform the Ministry of their findings and the advocacy on how well the program can be strengthened.
FMOH
---
Modupe.aduloju ARC, KAPITAL929.FM, NPHCDA, POLIO, WHO, WPV